Approach and local public transport

Frankenthal can be reached excellently by all routes. Whether you drive on the autobahn A 6, A 61 or A 5, sooner or later each of these autobahns leads io the surroundings of Frankenthal.
Frankenthal is situated in the intersection of the lands Rhineland-Palatinate, Baden-Württemberg and Hesse. Thanks to this advantageous location and traffic connection, you reach the international airport Frankfurt/Main and the surrounding regional airports in about one hour, and the well-developed local public transport system brings you quickly to the surrounding towns Mannheim and Ludwigshafen.
The proximity to inland ports promotes the fast mobility, too.
Whether you travel by car, bus or rail, you will find here all necessary information on your journey as well as timetables at the association of transport companies: Verkehrsverbund Rhein-Neckar and at the German Railways: Deutsche Bahn.
By car:
Frankenthal is within easy reach of all directions.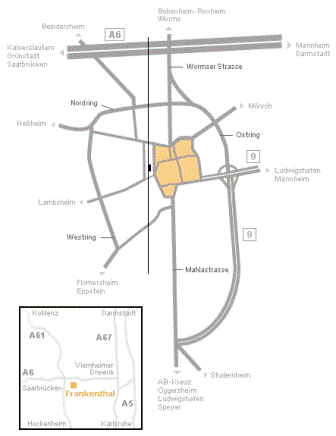 © Stadt Frankenthal