Global-Player

Many enterprises, producing globally known products and services, have settled in the industrial and commercial location of Frankenthal. In the following we present several selected companies distinguishing the town as an economic location of international reputation.
---
KSB AG 
The KSB Group based in Frankenthal (Pfalz), with a turnover of about 2000 million €, is one of the leading producers of pumps, valves and related systems.
More than 15.600 employers are involved in the segments building services, industry and water utilities and in the energy sector. About 2.050 members of staff are employed at the company`s headquarters in Frankenthal (Pfalz).
KSB produces, according to uniform quality standarts, at more than 30 production sites in 19 countries. The range of offers reach from rainwater harvesting systems over pumps to boiler feed booster systems fpr large power stations.
In 2010 a new production and testing hall for power station pumps with a capacity of more than 1.000 MW was inaugurated at the group`s headquaters in Frankenthal (Pfalz). With this 40  million € project the group firmly supports the location of Frankenthal (Pfalz). 
---
Siemens Turbomachinery Equipment GmbH
The wholly-owned subsidiary of Siemens plc has been successful in the segments turbo-machinery turbines, compressors and ventilators for more than 80 years. The use of these products reaches from varied industrial applications over purification of waste water to technical building equipments. As a part of the Siemens group the company is active worldwide.
---
GE-Jenbacher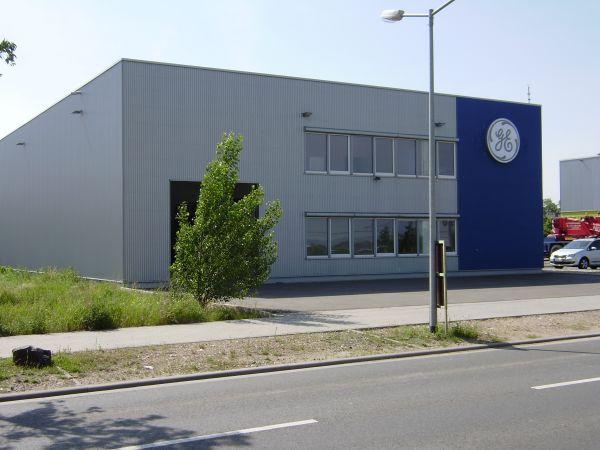 © WFGThe gas engine branch of GE, Jenbacher Gasmotoren, is a manufacturer of gas-fuelled engines, generator sets in combines heat and power modules, as well as block-type thermal power stations. Since July 2010 the German Head Office has been based in Frankenthal (Pfalz) and is responsible for distribution as well as being centre competent for the long distance maintenance of the facilities. From here, the North European regions are attended, too.
---
Koenig & Bauer AG (KBA)
The group is one of the largest producers of printing presses and an important partner of International Graphic Institutes. The business area digital printing is currently being newly developed. In the plant at Frankenthal (Pfalz) with arround660 employees commercial offset presses and high -performance folders are produced. In addition, engineering, production and assembly services have been offered, independently of branches, since 2010.
---
Renolit SE
The enterprise is one of the leading producers of high-quality plastic films and products and is represented with is production in Frankenthal (Pfalz). In 2010 about 2,4 million € were invested here, thus strengthening the location with its around 360 employees. 
---
Alfred Sternjakob GmbH & Co.KG
The enterprise, founded in 1934, is with its about 140 employees the international market leader in satchels today.
Brands like Scout and 4 YOU make the name of the town Frankenthal (pfalz) known all over the world. 
---
Intersnack Knabber-Gebäck GmbH & Co.KG
The first production facility for potato crisps was set up by the von Opel family at hte home Court Petersau in Frankenthal (Pfalz) in the year 1962. Today the works belong to Intersnack Knabber-Gebäck GmbH.
Chio-Chips (Carlo, Heinz and Irmgard von Opel)  was the first make of potato crisps in Germany.
---
VESCON GmbH
VESCON carries out projects in the field of automation and process engineering, energy technology and high-voltage engineering as well as special machine building and test stand technology. The product range is completed with extensive services in the fields of CAD/CAE, software and IT as well as  an innovative printing process for different materials. The group  VESCON comprises 8 companies with over 200 staff members altogether.
---
AXIT AG 
The enterprise stands for innovative IT logistics solutions and is a leading company in cross-company process management among all partners of the logistics chain. Logistics service companies in 92 countries are directed by the logistic platform AX4 developed by the enterprise for their cross-company logistics chains on the base of continual and transparent information.
---
Gleichmann & Co. Electronics GmbH and MSC Vertriebs GmbH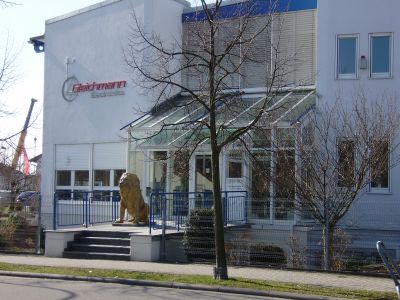 © WFGThe Electrical Association founded in 1979 with headquaters in Frankenthal (Pfalz)  and Stutensee belongs to the largest an most expanding distribiutors of electronic components in Europe today. In the centre of its business activites are products such as micro controllers, programmable logic components, graphic and TFT displays, memory components and modules as well as board level products.
---
Bürkle Leisten and Profile GmbH
Bürkle  was founded  in Frankenthal (Pfalz) in 1932 and since January 2006 has belonged to Karl Pedross AG, which has its headquarters in South Tyrol/Italy. Both companies are jointly one of the international market leaders in developing, producing and marketing floor fittings, laminated and solid skirting boards and profiles, suitable for all current solid wood, parquet and lamionated floors. The company employs around 260 members of staff. 
---
Bender GmbH
The enterprise produces plastic bottle tops for carbonated and non-carbonated beverages.The company belongs  to the GCS group (global closure systems), and with a segment af 6 different brands is one of the international leading companies in the field of plastic tops and assedmbly groups.
---
Fritz Massong GmbH
The medium-sized business founded in  the year 1921 transacts business in the fileds of fire safety and security, offering an ultra-modern technical range of products. The company sees itself as a supplier of solutions for large-scale and medium-sized enterprises as well as for fire brigades and rescue services.
---